Choosing the right New Orleans roofing company for your roof repair or roof replacement is a big decision.
There are 6 critical tips we strongly suggest you consider when vetting a roofing contractor – including us – before you make a decision about who you'd like to work with.
1. Verify the State License for Each New Orleans Roofing Company
One of the biggest things homeowners don't check on when evaluating roofers is whether that roofing contractor actually has a state license.
There are different types of licensing levels that contractors have. In order to have a business, you have to have a local business license. But to be a contractor and do work above $7,500 in the state of Louisiana, you must have a roofing contractors license, home improvement contractors license or a general contractors license.
To check on a particular contractor and verify their license, you can visit the Louisiana State Licensing Board for Contractors website and look up a contractor you're considering to use for your roof repair or roof replacement project.
2. Ask About Their Experience & Credentials
Experience is really important when hiring a roofing contractor. When evaluating a roofer, ask how many years of experience they have as a roofing contractor. Also, ask them how long they've been a licensed contractor in the State of Louisiana.
You want to work with a roofer that is not just going around trying to install new roofs, but actually works on roofs every day and is experienced with many types of roof repairs. No one likes to feel like they're being sold a bill of goods. Ask your roofing contractor about what types of experience they have and their background with construction.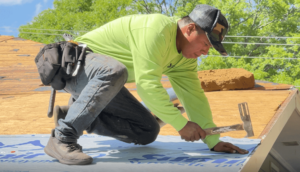 3. Don't Agree to a Large Upfront Deposit Amount
When hiring a local New Orleans roofing contractor, people sometimes feel pressured to put down large deposits before work is started. The fact is that any well-established roofing company has access to enough funds and resources to accomplish the job even if you pay nothing in advance. However, the acceptable upfront deposit / payment for a reliable roofers is anywhere between 10% and 50%. And, the top of this range is really only acceptable with jobs that require special or uncommon materials.
A major part of the roofing expenses goes into purchasing the materials. That's why some roofing contractors need money from their customers in advance to buy the supplies and materials. If you choose a trustworthy and well-established roofing company in New Orleans, you can pay some of the amount upfront. However, if you've chosen a cheap contractor or a storm chaser, chances are that they will buy substandard products and usually perform an improper installation. So, paying these contractors large amounts of money upfront is the quickest way to lose your hard-earned cash.
Bottom line: reliable roofing contractors are not going to require large deposits and especially way in advance.
4. Read All Paper Work Carefully First
It's standard for a roofing company to ask for your signature upon accepting a quote or proposal for work to be completed. However, some roofing contractors will pressure you to sign paperwork upfront that obligates you to work with them exclusively. Stay away from any roofing contractor in New Orleans that requires this.
The reality is that a reliable roofing company is going to want to earn your trust and do things in good faith. They're going to want to create a meaningful connection with you.
You should never feel like you're being forced into signing some kind of paperwork. And even if you do sign something, don't believe that's the end of the story. If you run into problems, there are always ways out.
5. Ask About A Physical Location & Years in Business
Working with a brand new roofing company isn't necessarily a bad thing. There are many great roofers who have started their own companies after working years and gaining experience with larger roofing companies. However, it's very important to know how long they've been in business.
If a local roofing contractor has only been around for a year and they're promising you a workmanship warranty of 5-10 years, it should raise a red flag and you should ask around. If they're brand new, how do we know they'll still be around in 5-10 years? Just something to consider.
Also, there are a lot of local New Orleans roofing companies that are really just sales team or even storm chasers that don't actually have a local office or physical location. You should really stay away from these roofing companies. They tend to come and go and hard to track down if you have issues down the road with your new roof.
6. Inquire About Their Manufacturer Relationships and Roof Warranties
Roofing contractors that have manufacturer relationships and certifications have gone the extra mile in terms of training and understanding the products provided by those manufacturers. These manufacturers will often provide credentials for these contractors, which then allows them to register roof warranties for longer periods of time.
And sometimes these roof warranties cover both the product itself and the workmanship, which gives you even more assurance.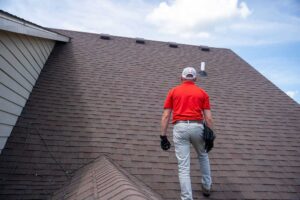 So don't hesitate to ask a New Orleans roofing contractor what manufacturers they are credentialed with and whether those manufacturers offer product and workmanship warranties. Roof workmanship warranties are important because they cover any instances when the roofing materials themselves are installed incorrectly.
Most of the time, when a roof is going to leak it's because something was put on wrong. It's not actually the material itself. People mistakenly assume that because it's a 50 year roof it's not going to leak for 50 years. The reality is that there's a roofing material warranty to say that the material is not going to be defective for 50 years, but the roof itself is going to get old. It's going to need some maintenance over time.
This means that it's incredibly important that the roofing materials be put on properly. A workmanship warranty from a manufacturer assures you that if something is done incorrectly, it will be covered by the manufacturer.
Okay, there you have it! Don't forget to think about Revival Roofing when you are looking for a licensed and qualified roofer to replace or repair your roof here in the New Orleans area.